One of our favorite research subjects in Museum Burg Posterstein is European salon culture around 1800. – Not the first thing to think of when talking about a medievial castle. But only a view kilometres away from the regional history museum Burg Posterstein a popular salon hostess had her summer residence: Anna Dorothea of Courland (1761–1821) in the castle of Löbichau. Born in today's Latvia the rich Duchess had wide connections to Europe's high society.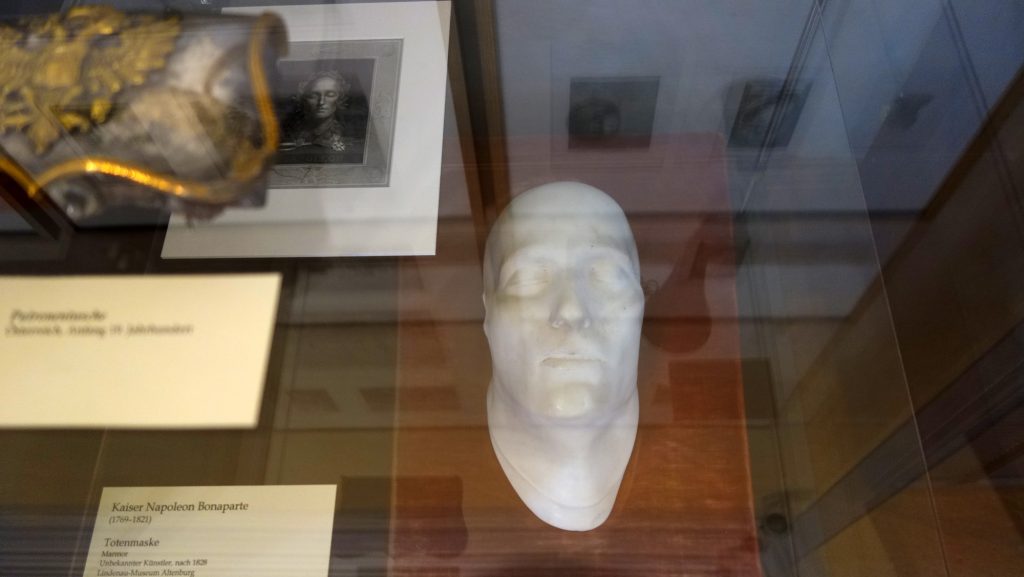 That's why Napoleon's death mask is one of the first things to see, when you enter the salon culture exhibition in Posterstein. First enthousiastic about him, the Duchess of Courland became much more opposed against Napoleon during the time.
Anna Dorothea of Courland cultivated a livelong friendship to the French statesman Charles Maurice de Talleyrand (1754–1834).
Tsar Alexander I. (1777-1825) visited her 1808 in Löbichau and conveyed the marriage of her youngest daughter Dorothée (1793–1862) to Talleyrand's nephew. At the Congress of Vienna Dorothee de Dino-Talleyrand accompanied Talleyrand and after his death she became his sole heir.
Anna Dorothea of Courlands oldest daughter Wilhelmine von Sagan (1781–1839) gained great influence an the congress as well, as she led a popular salon in Schenkenstraße in Vienna. From 1813 to 1815 she had a passonate relationship with Clemens von Metternich (1773–1859), the leader of the congress.
In Löbichau Anna Dorothea of Courland brought together poets, politicans and artists. Museum Burg Posterstein has been doing intensive research about this interesting women's life and the lifes of her daughters for more than 20 years.
The museum is cooperating with the French history society Les Amis de Talleyrand. The cooperation was officially recorded with a contract between the Museum society Burg Posterstein (Museumsverein Burg Posterstein) and Les Amis de Talleyrand in 2015.
In 2021 the permanent exhibition is being re-designed. The new exhibition, then with English summeries, can be seen from August, 1st, 2021.
Von Marlene Hofmann / Museum Burg Posterstein, last updated: June 2021
Further reading:
A cultural salon in Löbichau
Cooperation with Les Amis de Talleyrand (in German)
Bertel Thorvaldsen's busts of Wilhelmine von Sagan (in German)